Learning 2020
Shaping our long-term direction to help our students realise their full potential.
UWE Bristol has launched its ambitious new 2030 strategy. The Learning Strategy will be launched later this year, setting out in more detail the commitments we have made and the actions we will drive forward. Information on our existing Learning Strategy is provided below.
Our plan to drive learning and teaching forwards
Learning 2020 is integral to our UWE Bristol 2020 strategy. It defines our key aspirations for learning and teaching, and highlights what is unique about learning at UWE Bristol. It also outlines a series of programmes, which will enable us to keep on delivering outstanding learning over the next five years.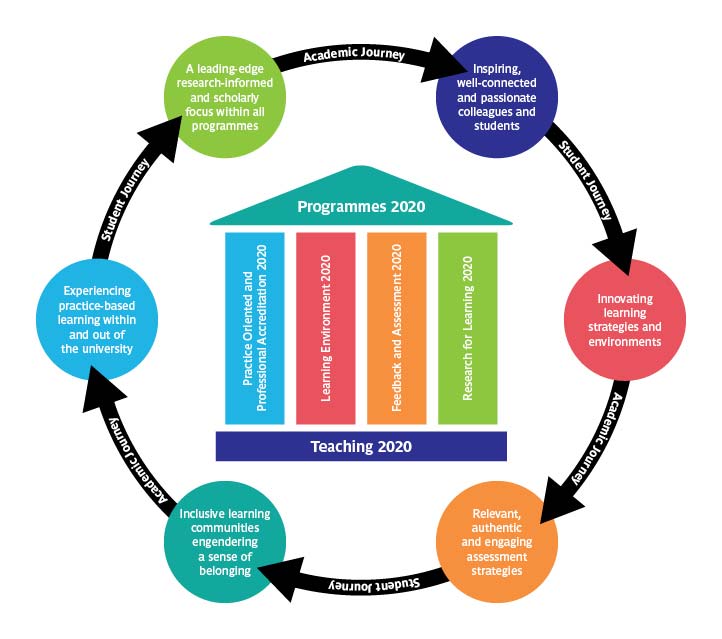 Supporting students and teachers
Learning 2020 is driven by six key aspirations. Focused on our students and teachers, these are linked through academic and student journeys so we can evaluate success as we progress:
Inspiring, well connected and passionate colleagues and students
Innovative learning strategies and environments
Relevant, authentic and engaging assessment strategies
Inclusive learning communities engendering a sense of belonging
Experiencing practice-based learning within and out of the university
A leading-edge research-informed and scholarly focus within all programmes.
Playing to our strengths
To help achieve these aspirations we have created a series of strategic programmes that will allow us to focus on developing what is unique about learning and teaching at UWE Bristol.
Teaching 2020 – This is our foundation. We know that we need excellent teaching in order to ensure that our students experience outstanding learning and we will be working together to share best practice and develop our strong focus on teaching excellence further.
Practice oriented and professional accreditation 2020 – Learning at UWE Bristol is intrinsically linked to the real world. Through this programme we will be deepening our links with practice so that it informs our curriculum, teaching and student experience.
Learning Environments 2020 - Learning at UWE Bristol takes place in cutting edge and dynamic spaces created through listening to students' needs and preferences and by using pedagogical research into the requirements for effective teaching.
Feedback and Assessment 2020 – Listening to our students and learning from expertise and research will develop our strength in this area and enhance our understanding of students' needs and preferences.
Research for Learning 2020 – At UWE Bristol we take teaching excellence seriously; we ensure that our students learn about the latest academic research we are involved in, and we make sure that our teaching practices are developed through pedagogic research.
A high-quality teaching foundation
Our ability to deliver these programmes is underpinned by the quality of our teaching. So we will continue to enhance our high teaching standards through the foundation programme Teaching 2020.
You may also be interested in